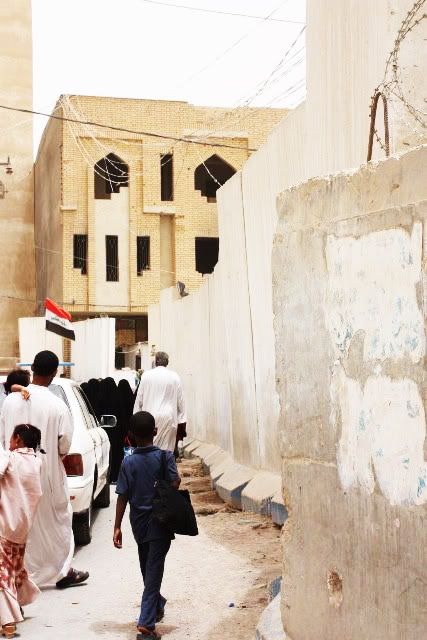 Crisis via conflict
Layla Shaikley, Baghdad
A photo journal// The term crisis is often referred to in a plethora of ways–the outcome of war is often defined as a crisis, water shortages fall under the scope of crises, and one may have an identity crisis. A crisis refers to intense difficulty or trouble. To analogize between Newtonian physics, crisis to the 3rd Law of Motion is the reaction to conflict. To narrow my scope, I will focus on crisis in conflict. To use the example that pertains directly to my field of study, the subject is the most current turmoil in what was once the cradle of civilization, Iraq. Via a personal photo journal that I maintained upon my last visit to Iraq in April of this year, I will provide a visual journey of my definition of crisis.
Crises can be physically confined within barricades
Layla Shaikley, Baghdad
Crisis represents destruction
Layla Shaikley, Baghdad
Crisis represents death
Layla Shaikley, Najaf
Crisis includes the inability for a municipality to support an economic system that provides opportunities to its constituency.
Crisis results in the creativity of a people to sustain normalcy via innovation, as implied in this photograph of DIY power wires draped throughout Baghdad. The home of the wires
Crisis effects the academic quality of the population at whole
Layla Shaikley, University of Baghdad Medical School (top school in country)
Crisis represents destruction
Layla Shaikley, Baghdad